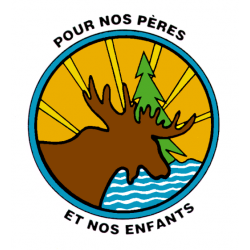 The Innu community of Essipit (esh shipu: shell river) is located on the Haute-Côte-Nord, close to the town of Les Escoumins and approximately 40 km east of Tadoussac. Despite its small size (0.8 km2), Essipit is still a highly respected community among the 16,000 Innu of Quebec. The community's entrepreneurship, which targets local development as well as the creation of partnerships with regional players, is especially responsible for this recognition. In 2016, Essipit had 740 members, 208 of which lived in the community.
As for any other First Nations community, the Nitassinan (territory) of Essipit is direct linked to the identity of band members, because it has become a catalyst for the transmission of traditional ways of life and ancestral practices from generation to generation. The Nitassinan has been the historical ground of the Essipiunnuat (Innu of Essipit) for almost 10,000 years. Since the beginning of the modern era, colonization of the Nitassinan, forestry and leisure industries has considerably reduced and fragmented the territory of the Essipiunnuat and by the same token, their sociocultural practices. They have adapted to these social and historic changes by integrating their traditional knowledge and practices to their commercial activities such as fishing, recreation, tourism and forestry, through which they proudly express their identity as a nation.
Fishing and processing activities
The community of Essipit operates two boats: the Kraken I for crab and sea urchin fishing, and the Jimmy's for snow crab fishing (co-operated with the community of Pessamit). Since 2012, sea urchin fishing has been conducted in partnership with the community of Pessamit. The fishing and processing industries in Essipit employ close to 200 people. Employment is divided into different sectors:
Fishing: 9 employees plus the Fisheries Manager
Restaurant-poissonnerie Namesh: 36 employees
UMEK (co-owned processing plant): 56 employees
Pêcheries Manicouagan (distribution network, export, points of sale and restaurant, in partnership): 24 employees
Crabiers du Nord (co-owned processing plant): 75 employees
To better its situation, the community has recently purchased a new boat: the Kraken1. Also, much automation work has taken place in both production units (Crabiers du Nord and UMEK), making them more efficient. Other than regular activities, the sector has implemented a strategic plan to circumscribe future developments and, ultimately, give the community strategies and an action plan to face the challenges ahead.