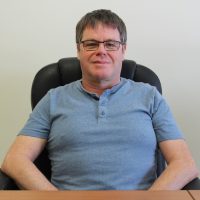 Serge Langelier
Mr. Langelier is a biologist by training. He holds a bachelor's degree in biology from the Université du Québec à Rimouski.
He has been involved in the management of fishermen's organizations on the North Shore of the Saint-Lawrence Gulf for close to 30 years. He has worked, among others, for the Regroupement des Pêcheurs Professionnels de la Haute et Moyenne Côte-Nord as a biologist.
Mr. Langelier is also President of the Board of Directors of Merinov, an integrated industrial research center specialized in fisheries technologies. He is also a member of the Board of Directors of the Comité Permanent sur la Sécurité des Bateaux de Pêche du Québec.
He is currently the Director of fisheries for AMIK since 2006. In this capacity, he manages three commercial fishing vessels. Mr. Langelier is optimistic about the future of this sector in the AMIK member communities.